Freemasonry is a fraternal organisation that arose from obscure origins in the late 16th to early 17th century. Freemasonry now exists in various forms all over the world, with a membership estimated at around six million, including approximately 150,000 under the jurisdictions of the Grand Lodge of Scotland and Grand Lodge of Ireland, over a quarter of a million under the jurisdiction of the United Grand Lodge of England and just under two million in the United States.
The fraternity is administratively organised into independent Grand Lodges or sometimes Orients, each of which governs its own jurisdiction, which consists of subordinate (or constituent) Lodges. The various Grand Lodges recognise each other, or not, based upon adherence to landmarks (a Grand Lodge will usually deem other Grand Lodges who share common landmarks to be regular, and those that do not to be "irregular" or "clandestine").
There are also appendant bodies, which are organisations related to the main branch of Freemasonry, but with their own independent administration.
Allegiance to Satan or mere coincidence?


Barack and Michelle Obama

Republican vice presidential candidate, Alaska Governor Sarah Palin,






John Kerry campaigning in October of 2004



Illuminati Devil Hand Signals were Prevalent Throughout the 2005 Inauguration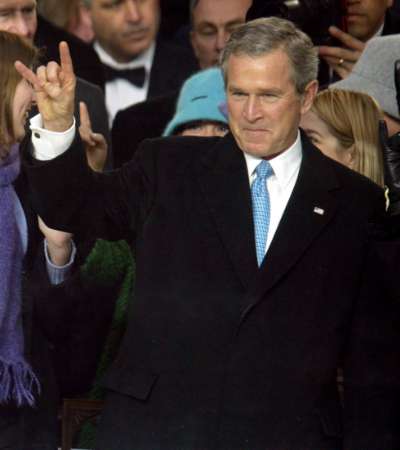 George W. Bush at his 2005 inauguration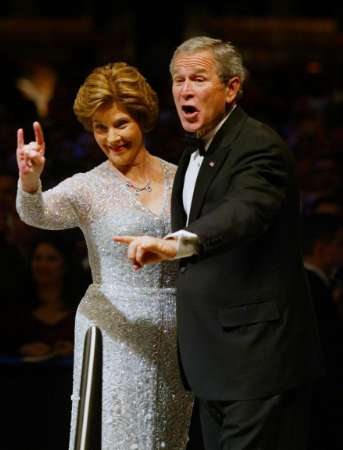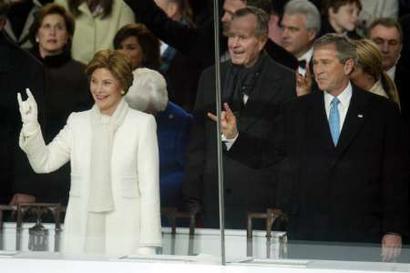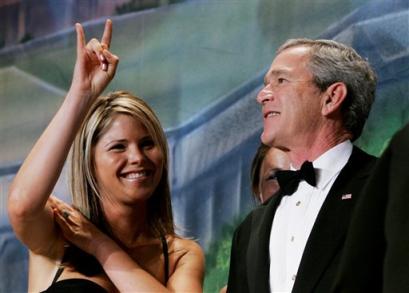 The Associated Press and Reuters called the above bush family hand signs, the 'Texas Longhorn or 'Texas UT' symbol. P
eople still seem to think the signal is solely the 'hook 'em horns' UT symbol. We know this to be true but this doesn't answer our primary questions:
1) If the symbol denotes Texas football or UT, why are people like Silvio Berlusconi and Bill Clinton doing it too? They have no links with Texas.

2) Why is the Bush family so obsessed with the signal, displaying it dozens of times during both the inauguration and the evening ball? A few times maybe we could accept, but why this many? What has Texas sports got do with a national inauguration?

3) By Bush being an occult member of Skull and Bones and Bohemian Grove, it certainly shouldn't be surprising that people would suspect him of praising Satan. Why would any Christian belong to an occult organization?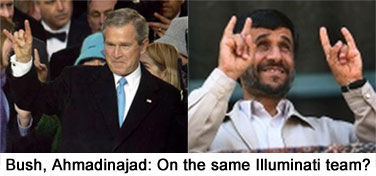 WOW - even King Abdullah and Putty Pute are fans, everybody's doing it!

Go Long Horns!




France President Sarcozy




Vice President Dick Cheney




Elizabeth Taylor
So what affiliation does Prince William Have with Texas UT?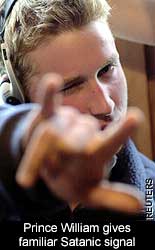 Silvio Berlusconi? Paul McCartney? Bill Clinton?